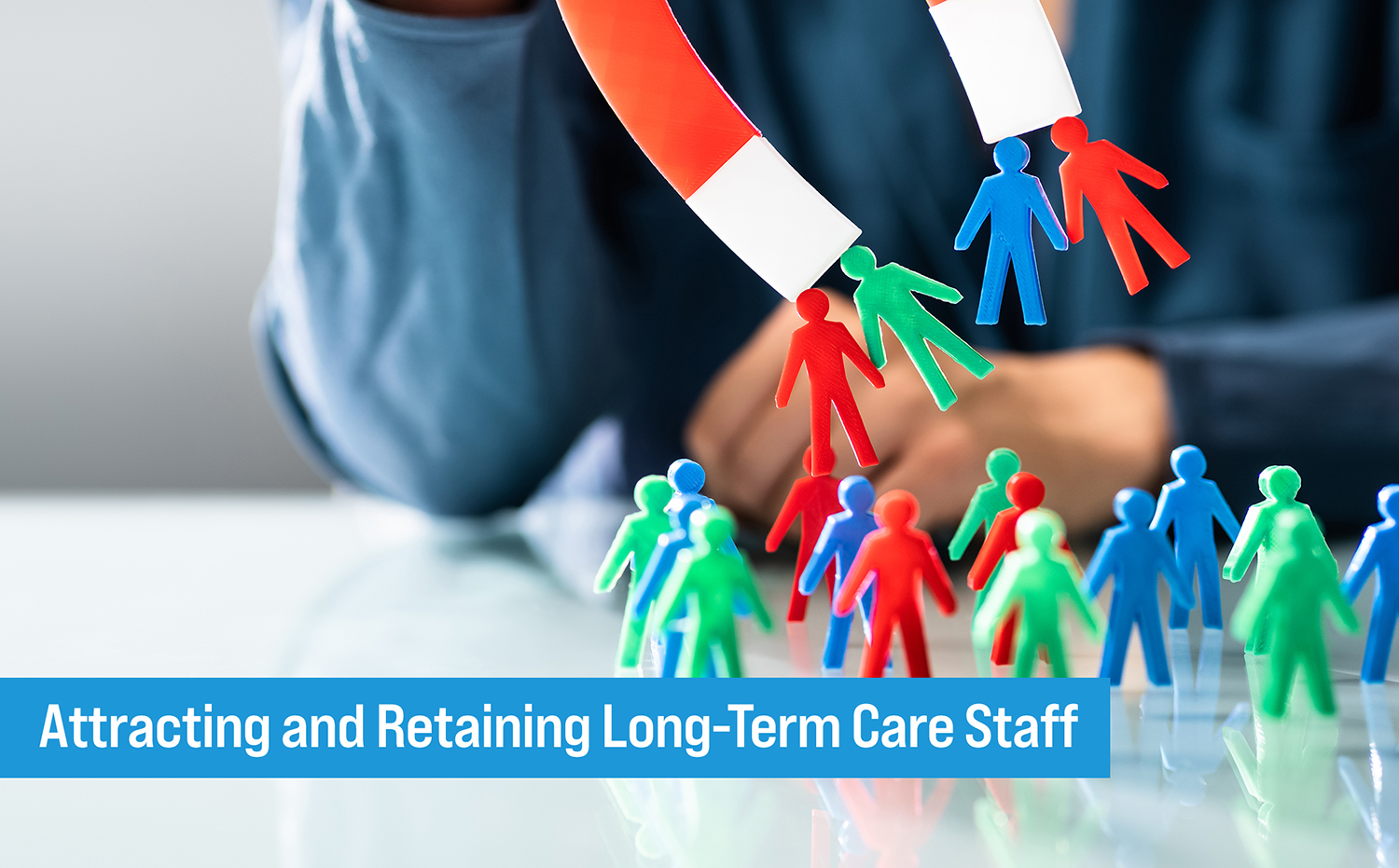 There are approximately 4.6 million direct care workers in the United States, and studies suggest that by 2028, the industry will need to fill 8.2 million jobs1 — a sobering statistic for an industry already reeling from the "Great Resignation." With the nationwide staffing shortage continuing to grow, long-term care facilities will need to place a renewed focus on recruitment and retention.
There are many methods to retain quality caregivers, but experts recommend fostering a team-centered culture through regular employee recognition. Studies suggest that caregivers consider recognition to be more valuable than pay raises, and verbally celebrating staff for the compassionate care they provide is an easy and free way help caregivers feel valued.2 Employers can also formally recognize and motivate caregivers through competitive or noncompetitive contests, point programs, or advancement opportunities, but experts stress that planned initiatives must also be consistent and inclusive.3 Retaining employees also involves a holistic approach centered on creating a healthy work-life balance, offering ample training and advancement opportunities, and providing access to mental and physical health resources.4
Long-term care facilities must also have strong recruitment strategies in place to attract top talent, which can include targeting nontraditional talent pools, strengthening training and mentorship programs, promoting career advancement programs, and increasing compensation.5 Research suggests long-term care workers feel motivated when they have access to high-quality entry-level training, ongoing education, and well-defined advancement opportunities, so highlighting those programs should be part of every facility's recruitment strategy.6 Tailoring outreach techniques to diverse talent pools is also necessary to reach a larger group of potential hires. For instance, millennials seek meaningful and purposeful careers, so effectively communicating the value of long-term care, establishing connections through mentorships, and emphasizing the impact caregivers have on the community can also be effective recruitment strategies.7
Facility managers should spend 80% of their time actively recruiting prospects and 20% of their remaining time interviewing and onboarding them.8 Other strategies involve maintaining a strong social media presence, reaching out to community colleges, nursing schools, and universities to generate interest, hosting casual job fairs, offering off-hours interviews to accommodate individuals with inflexible schedules, and developing an employee referral program.9
Successful recruitment takes time, and facility managers must be prepared to think creativity as the industry tackles the issue head on.
Sources:
1-6. www.ncsl.org/research/health/supporting-direct-care-workers-recruitment-and-retention-strategies.aspx
2. www.homecarepulse.com/articles/how-to-successfully-recruit-and-retain-caregivers
3. https://ici.umn.edu/products/docs/Staff_Recruitment_book/Staff_Recruitment_book.pdf
4. https://incitesp.com/2022/03/03/retain-and-attract-long-term-care-staff-by-focusing-on-the-workplace-experience
5. www.mcknightsseniorliving.com/home/news/6-strategies-will-help-build-the-long-term-care-workforce-report
7. https://corecubed.com/home-care-recruiting-how-to-attract-and-keep-the-best-millennial-caregivers/?doing_wp_cron=1528126712.7079670429229736328125
8-9. www.relias.com/blog/12-best-practices-for-recruiting-senior-care-providers