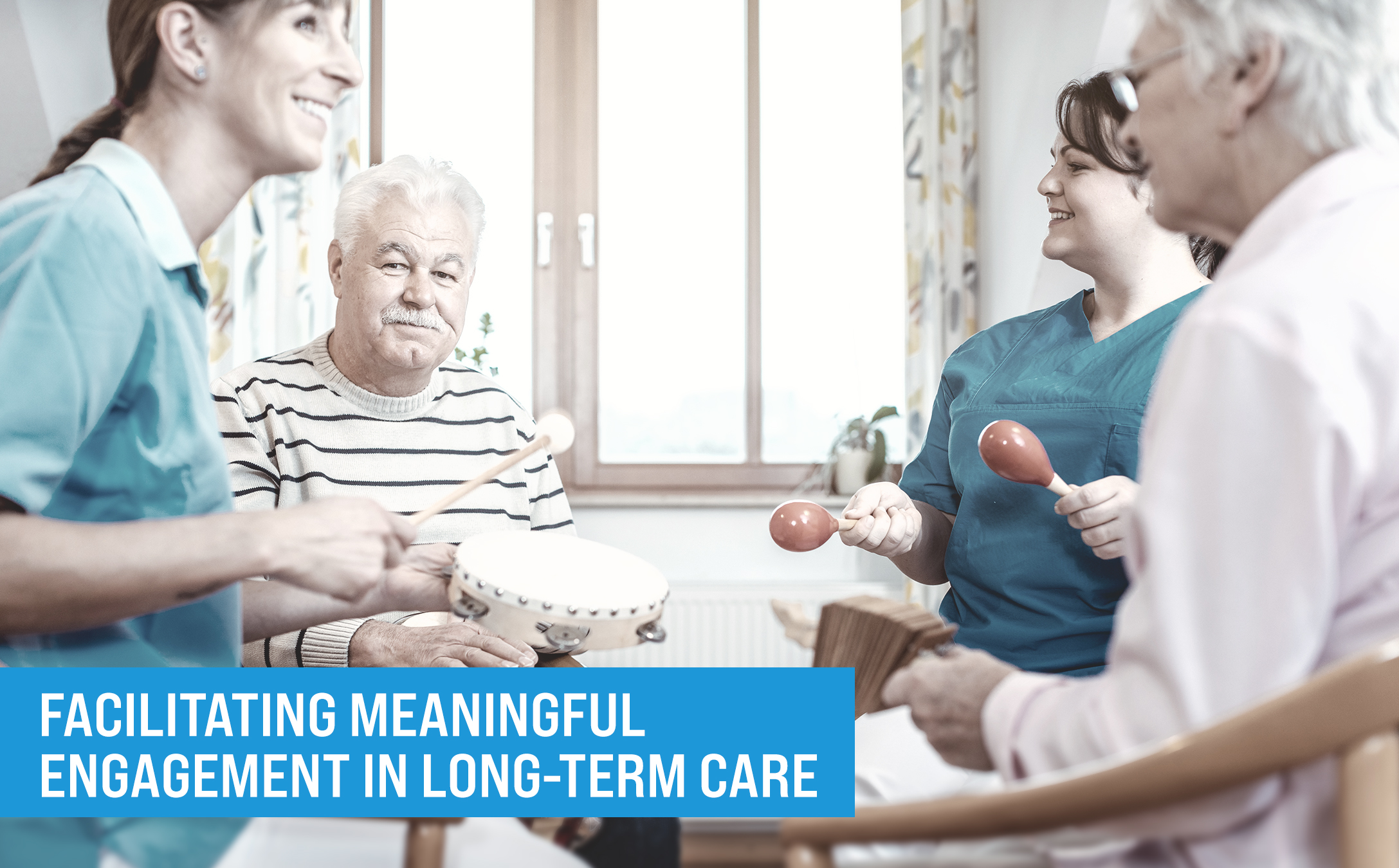 For residents in long-term care settings, active engagement, both cognitively and socially, is imperative for holistic well-being. Many seniors in long-term care facilities or nursing homes experience feelings of isolation and loneliness, which can be compounded by debilitating depression, and while light activities such as games and social gatherings can be helpful, studies suggest that programs that foster strong engagement and peer support are most effective in improving overall mental health.1
Additional studies have found significant increases in cognition functioning among long-term care residents who participate in music or reminiscence therapy.2 Music has the therapeutic power to help those struggling with cognitive impairment or dementia revisit the past, and it can even lead to improvements in physical, social, or emotional functioning or help with anxiety, depression, or overall symptom management.3 Drum circles or vocal choirs are especially popular among seniors.4
In addition to studied therapeutics, long-term care facilities should focus on innovation—and that involves planning engagement activities that are both meaningful and enriching. The National Association of Activity Professionals suggests polling residents to determine individual likes and dislikes and tailoring programs that align to specific interests.5 Therapeutic cooking activities, where residents can measure and mix ingredients or compete to become a "celebrity chef"; wine and cheese nights where residents can paint on blank canvasses; low-impact exercises such as aquatic therapy, Zumba, yoga, or tai chi; movie nights; brain games; and gardening are all modern activities that can be modified for all residents, regardless of cognitive or physical limitations.6 Introducing a variety of activities will help residents connect with others and find meaning.
Guided imagery therapy can also be an interesting avenue to explore, especially for residents with memory impairment; different aromas, sounds, environments, and atmospheres can help enrich senses and provide windows to the past.7
LeadingAge recommends that facility enrichment programs target all emotional, social, spiritual, physical, educational, and occupational benchmarks, and work to facilitate a person-centered care philosophy that is both inclusive and creative.8 Activity planning must involve more than the mediocracies of card games and birthday parties. Activities should be strategically planned and thoughtfully designed and, perhaps most importantly, they must be adaptable.
Sources:
1. www.sciencedirect.com/science/article/pii/S0890406515300347
2. www.mcknights.com/marketplace/high-engagement-associated-with-positive-health-outcomes/
3. https://blog.bluecrossmn.com/longevity/for-elders-in-long-term-care-music-therapy-is-music-to-their-ears
4-7. https://health.usnews.com/best-nursing-homes/slideshows/beyond-bingo-innovative-activities-at-todays-nursing-homes
8. https://leadingage.org/magazine/marchapril-2013/top-ten-elements-comprehensive-life-enrichment-program